Welcome to our Patch
Holy Cross Church has been hosting a Pumpkin Patch since 2007.
Open weekends in October (14,15) (21, 22) (28, 29) to the local community, we have beautiful pumpkins from a grower in New Mexico. There is no admission fee.
Families return year after year to find "their" pumpkin, whether it be for school, for decorating the house, or carving a Jack-o-lantern, everyone can find what they need here.
Fall fun at the patch is a must! With hayrides, a bounce house, great food, playground, maze, photo booth, glitter tattoos, popcorn, cotton candy or snow cones, there is something for everyone.
The big tent is a place of great entertainment where local community groups, musicians, dance teams, etc. come to perform for us and for you.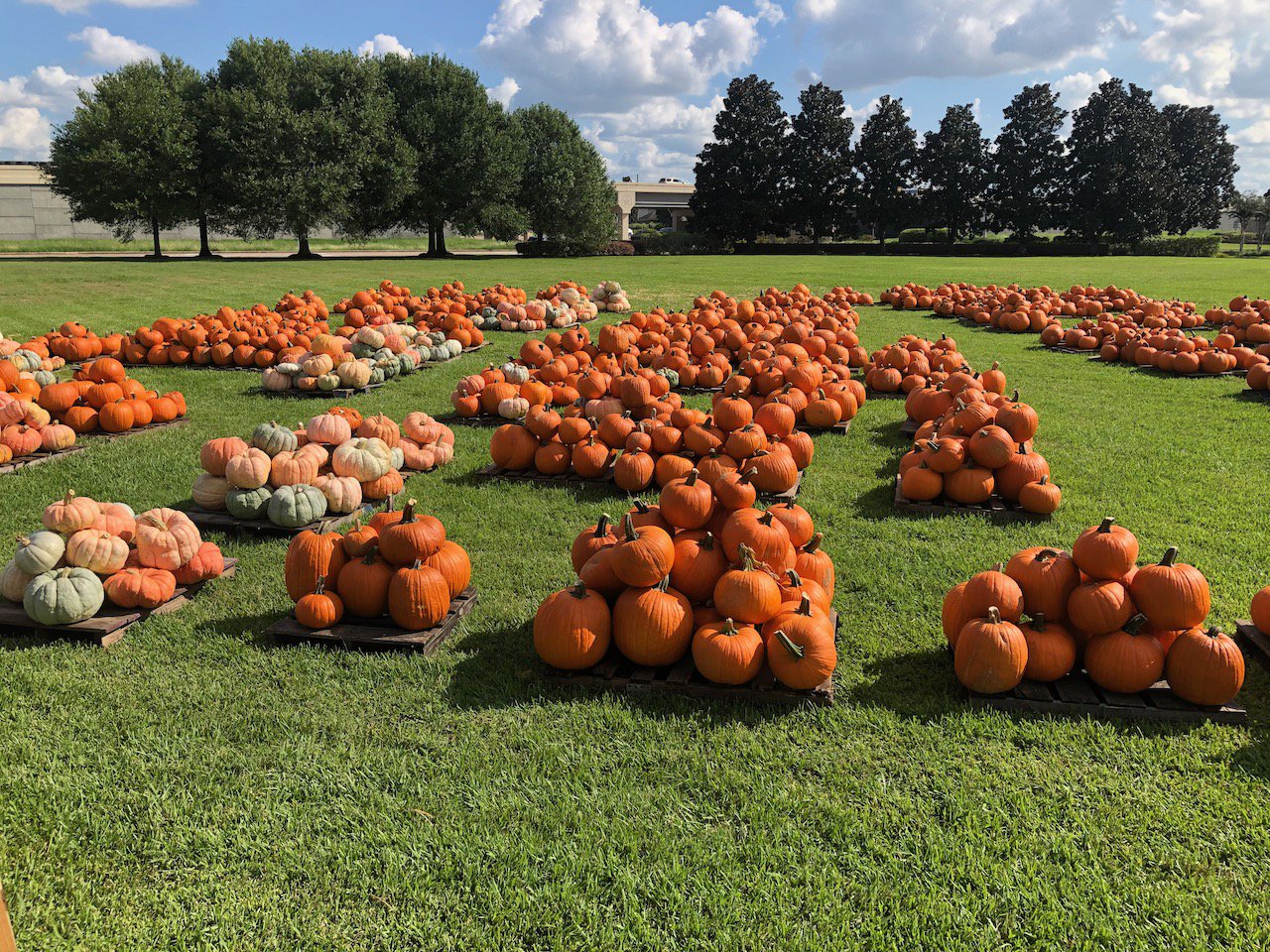 # 1 - Pumpkins are hand delivered
Our pumpkins arrive from New Mexico early in October, are unloaded by hand and placed carefully on pallets so as to not spoil.
Come early to get the best pumpkins. It is free to come and see with no admission fee.
#2 - Family Fun
Live Entertainment, Local Musicians, Dance Groups, Martial Arts
Holy Cross Band, Bounce House, Glitter Art Tattoos, Hay Rides
Children's Maze, Pumpkin Decorating, Family Photo Booth
Baked Goods, Popcorn, Snow Cones, Cotton Candy, Silent Auction
Blessing of the Animals - Every Saturday at 12noon
#3 - Fall Food
Smoked Brisket, Pulled Pork Sandwiches, Nachos,
Sausage on a Stick, Hot Dogs and Drinks
All for sale at a reasonable price
#4 - Hayrides
Families enjoy our trailer hayrides, the truck pulls you around the pumpkin patch.
Fun for everyone!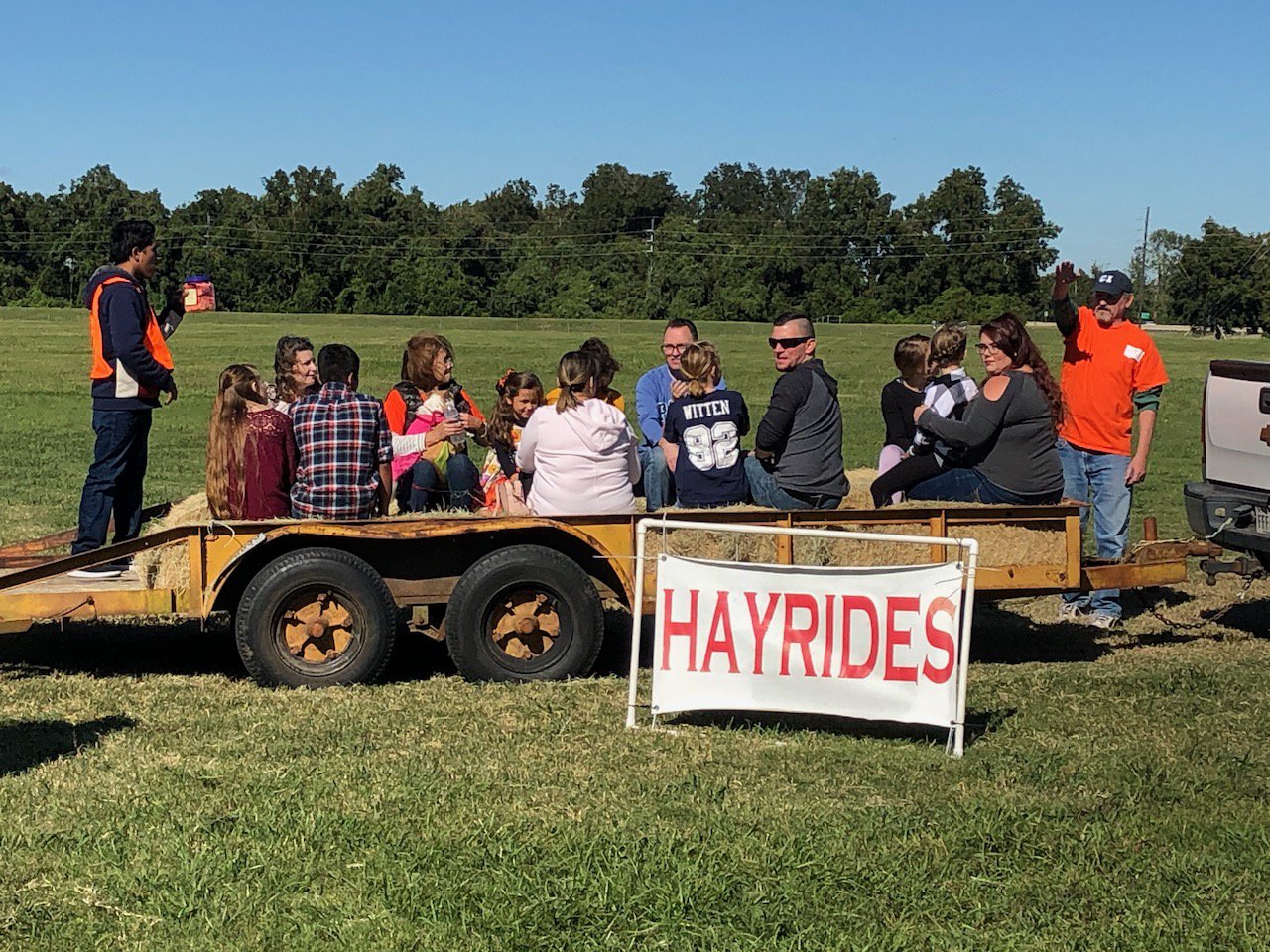 #5 - Silent Auction
The Weekend of October 21st and 22nd
In addition to providing locally donated items for auction, we're hosting "Diamonds in the Rough," the #1 Autographed Sports Memorabilia Silent Auction Company for charities in Texas. They will be providing 20-50 quality, fully authenticated, autographed sports & entertainment memorabilia items on which you can bid.
#6 - Sponsorship Opportunities
PLATINUM DONOR $1,000 to $2,000—Includes 8X4 (ft) banner
GOLD DONOR $500 to $999—Includes 6X4 (ft) banner
SILVER DONOR $300 to $499—Includes 5x3 (ft) banner
If you have any questions, please email office@holycrosschurch.com
or call 281.633.2000
Volunteers
We rely on our Volunteers to help out on the patch and help us to keep the philosophy of "No Admission Fee"
There are lots of opportunities to help, and popular times for High School students to gain Community Service Hours.
Share this short link with others: https://signup.com/go/TpKnjca
Fall Family Fun - Schedule 2023
October 14 - Saturday - 10am to 6pm
10:30am TBC - Boy Scout: Flag Presentation and Pledge of Allegience and National Anthem
12noon - Blessing of the Animals
Others TBA
October 15 - Sunday - 12noon to 6pm
TBA
October 21 - Saturday - 10am to 6pm
Silent Auction
12noon - Blessing of the Animals
Others TBA
October 22 - Sunday - 12noon to 6pm
Silent Auction (closes at 3pm)
TBA
October 28 - Saturday - 10am to 6pm
12noon - Blessing of the Animals
Others TBA
October 29 - Sunday - 12noon to 6pm
TBA